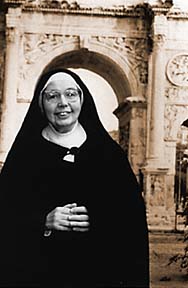 Sister Wendy: "Nun" Better
Sometimes art may seem overwhelming and complex. Want to find the clearest, most concise analysis of art on television today? Just sit back in your La-Z-Boy chair and let Sister Wendy (a real nun in full regalia) make sense of it all!
In less than ten years, Sister Wendy has developed a series of 27 books and 7 videos that examine art in many of the world's finest museums. Her success is most impressive for an English cloistered nun who did not have a formal art history education. Sister Wendy's popularity can be attributed not only to her knowledge of art but also to another quality-she has an extraordinary ability to explain a work of art in uniquely human terms. As a result, her discussion is never boring as it deepens the connection between the viewer and a work of art.
Unfortunately for her legions of fans, Sister Wendy's days as a globetrotting art historian have ended. She has decided to end her secular career and return to the contemplative life among the Carmelite nuns in Norfolk, England.
So, what better time to review Sister Wendy's tours of world museums? All are available for sale and most can be checked out at your local public library.
Her most recent art adventure was broadcast this fall on PBS: Sister Wendy's American Collection. In this last series, Sister Wendy travels to the United States to highlight her favorite works of art from six museums. Given the vast amount of art available in these museums, you might be surprised by some of her choices, but you will be satisfied with her attention to detail and captivated by her passion for art.



Sister Wendy's American Collection
Box Set (2001) DVD
List Price: $79.95
Our Price: $71.96 You Save: $7.99 (10%)
Visit Amazon.com for Sister Wendy's collection
of Videos, DVD's & Books