Art a GoGo reviews the DVD Andy Goldsworthy's Rivers and Tides
by Kathleen Lang
If ever there was an artist to expand the boundaries of art outside the studio it is Andy Goldsworthy. Widely known as an environmental sculptor, Goldsworthy fabricates sculptures outdoors using only natural materials such as rocks, wood, leaves, flowers, ice and even snow. Simply stated, the environment is his studio and his sculptures embody all that is beautiful and fragile about nature.
This 2001 documentary by filmmaker-cinematographer Thomas Reidelsheimer is remarkable in its ability to convey the temporal works of art created by Goldsworthy.
In this film, Goldsworthy demonstrates why his works of art have become so famous. Whether he patiently shapes icicles around a tree, piles rocks into a 'cairn' or connects leaves together and then watches as it is slowly carried along by the river's current; it is truly mesmerizing to watch.
It is worth noting that very few of Goldsworthy's works of art can be installed indoors or purchased. Instead, Goldsworthy chooses to construct his pieces and then take photographs to document their existence. At times his works are monumental, whimsical, or beautifully delicate. In any case, his work is always thought provoking.
Throughout the film, Goldsworthy clearly articulates what he is trying to accomplish with each project. He may be soft spoken but he is very serious about his work and role as an artist. Andy Goldsworthy's Rivers and Tides belongs in every serious art lover's DVD collection.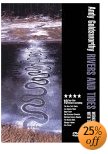 Visit Amazon to purchase your copy of Andy Goldsworthy's Rivers and Tides.