NIAD: Art That Makes a Difference
by Kathleen and Doug Lang
When you walk into the NIAD Art Gallery, you could be in any art gallery: paintings hang on white walls, a variety of sculptures are perched on pedestals, and carefully placed spotlights illuminate the artwork. As you move through the current exhibit, the gallery's curator greets you and answers your questions. Stay longer and you might even meet a few of the artists.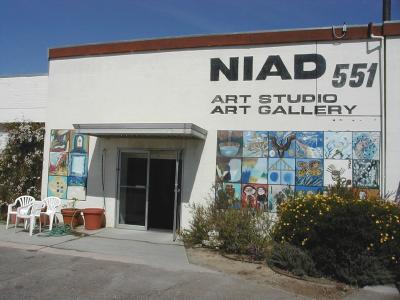 NIAD Gallery, Richmond, CA
Photo: Doug Lang
NIAD isn't just a run-of-the-mill gallery, however. Unlike many galleries who sell high priced art and contribute to already-inflated artists egos, NIAD has the power to transform lives. For you see, all of the artists at NIAD are adults with developmental disabilities.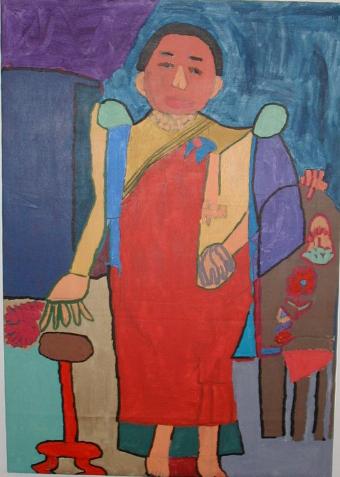 Alice Wong
King of Siam, Acrylic
Photo: Doug Lang
The award-winning, non-profit National Institute for Art & Disabilities (NIAD) is located in Richmond, California. Founded in 1982 by Elias Katz, Ph.D., a clinical psychologist, and Florence Ludins-Katz, an artist and educator, it has since served as a role model for 44 similar centers nationwide.
At NIAD, the artists are able to experiment with many different types of art mediums: textiles, drawing, printmaking, ceramics, and even poetry and gardening. They are instructed by a staff of professional artists, a professional writer, and also a group of volunteers from the community.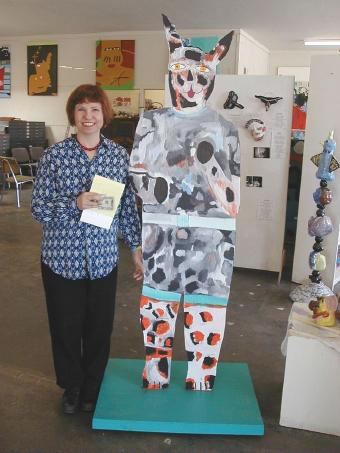 Rose Kelly, Curator of NIAD Gallery
Wood Sculpture by Nichole Narvaez
Rose the Cat
Photo: Doug Lang
When we asked the curator, Rose Kelly, to cite NIAD's greatest artistic success story, she enthusiastically responded, "They are all success stories." Ms. Kelly's view becomes apparent after meeting the artists working at NIAD. The day we visited the gallery, we found many artists deeply involved in their work, and several were eager to tell us about their current projects.
In addition to serving as curator, Rose Kelly is also a recognized artist who weaves abstract sculptures. Her association with NIAD began as a California Arts Council Artist-in-Residence from 1994 to 1997. As curator, Ms. Kelly coordinates exhibits at local galleries, schools, corporate offices, hospitals, as well as locations outside the United States.
Five exhibits are held annually at NIAD, and include receptions that allow the artists to meet and socialize with their family, friends, and collectors. And make no mistake; the art is definitely collectible.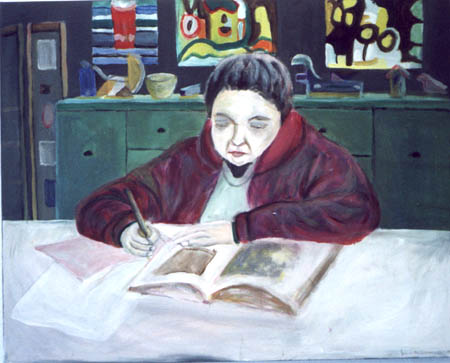 Jean McElvane
Rosita, Acrylic on Canvas
Photo: NIAD Gallery
The art that is made at the NIAD Gallery is categorized as "outsider art." This term describes art that is made by self-taught and untrained artists. And while they may lack formal training, they are free to create unique works of art that are removed from the trendy movements of the art world. At the moment, there is a lot of interest in "outsider art," and more specifically in the art created by the artists at NIAD.
Samuel Gant, an artist at NIAD since 1984, has made quite a splash in the art market. Recently, one of Mr. Gant's vibrantly colored abstract paintings sold for $10,000. through an art dealer in New York.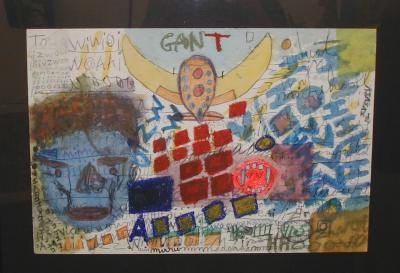 Sam Gant
MIMVA, Mixed Media
Photo: Doug Lang
Other artists are equally collectible. The Swiss appear to have a particular interest in "outsider art" and frequently visit NIAD to make purchases. During one visit, a Swiss collector bought 10 pieces from NIAD artist, James Chilton. After returning home, the collector contacted the gallery and requested even more!
NIAD is financially supported by the Regional Center of the East Bay, donations, art sales and special events. It is important to note that half of the proceeds from art sales go directly to the artist. This not only provides the artists with a source of income, but also greatly enhances their sense of self-esteem and self-sufficiency. The public can help by becoming members, buying artwork, attending openings, and visiting the NIAD web site.
But NIAD is far more than just about the selling of art; it is about the people who create the art. Meeting these artists and watching them at work is an incredible opportunity to observe the creative process in its purest form. Unencumbered by tradition, they are free to explore their artistic potential. The enthusiasm expressed for their art is easily recognized, and contagious as well. Perhaps one artist described this attitude best when he told us, with a huge grin, "I love art."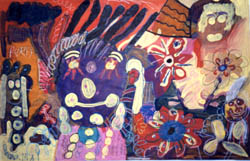 Althea Meaderas
ALH, Mixed Media
Photo: NIAD Gallery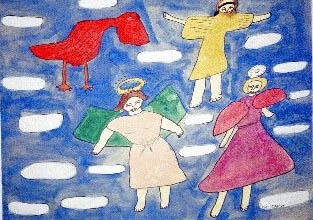 Rosie Pardo
Angels, Mixed Media
Photo: NIAD Gallery
For more information, please visit the NIAD Art Gallery web site.
Better yet, plan a trip to the gallery and meet the proud and talented artists who have created such wonderful artwork for us to enjoy.