A Mystery Revealed
A Review of Brunelleschi's Dome: How a Renaissance Genius Reinvented Architecture by Ross King
by Kathleen Lang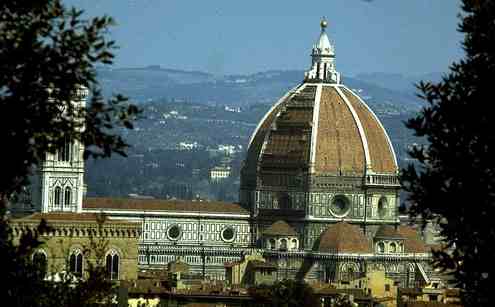 Brunelleschi, Filippo, Duomo. 1420-1436, Florence. Tuscany. Italy. ŠKathleen Cohen
It is one of the western world's greatest architectural mysteries: exactly how was the enormous dome of the Florence Cathedral constructed?
In 1418, the city of Florence announced a competition for a design for the dome of the city's new cathedral, Santa Maria del Fiore. What resulted was a fierce contest between several Florentine artists and architects to secure this very important commission.
As the winner of the competition, Filippo Brunelleschi created a bold design for the dome in what was (and still is) the largest dome in the world. At 143 feet in diameter the construction of the dome would require daring innovations in engineering that anyone but a genius architect, such as Brunelleschi, would certainly avoid.
In this very readable and informative book, author Ross King brings to life the story behind Brunelleschi's achievement. While the subject may sound overly technical, King deftly weaves the details of the dome's construction with the sights and sounds of 15th century Florence.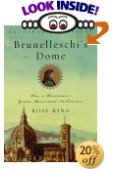 Visit Amazon to purchase your copy of Brunelleschi's Dome: How a Renaissance Genius Reinvented Architecture by Ross King