Art a GoGo reviews 5 Films About Christo and Jeanne-Claude
by Kathleen Lang
If you canít make it to New York to see the Gates, but are interested in learning more about the art of Christo and Jeanne-Claude, this DVD disc set is a great place to start.

Artists Christo and Jeanne-Claude are best known for their site-specific installations that wrap an architectural monument: wrapping the Pont Neuf bridge in Paris with a silky fabric. They can also re-define a landscape: a 24 mile "fence" of fabric across Marin and Sonoma county farmland or simultaneously open 3,100 enormous umbrellas across the landscape of Japan and California.
Their projects have been enormous in terms of scale, cost and planning. Sometimes it can take years for the artists to obtain the required permits to carry out their plans. Their earlier projects were mired in controversy as they persevered through the permit process and media scrutiny.
Jeanne-Claude describes their philosophy to "create works of art of joy and beauty." There is no purpose whatsoever she says, "it's just a work of art." But if you are familiar with their work, you will know that there is far more to their art.
Because their works disrupt large buildings or vast landscapes, the artists insist that the viewer perceive the environment differently. Christo calls these disruptions to our surroundings as "gentle disturbances." The resulting effect has been described as magical. By wrapping or surrounding, the artists have now re-created an environment that at times even surprises the artists themselves.
As noted by Charles Taylor in the DVD set's brochure, the Christos' take art out of the museum and make it accessible to the public. "The most profoundly moving moments in these films are the sight of people discovering a capacity to respond to beauty that they may have never suspected they had in them. A diner waitress looks at the skeleton of the Running Fence and marvels that it allows her to see the contours of the land."
5 Film About Christo and Jeanne-Claude is a collection of documentaries by Albert Maysles that chronicle five of their projects: "Christo's Valley Curtain," "Running Fence," "Islands," "Christo in Paris," and "Umbrellas."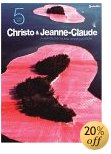 Visit Amazon to purchase 5 Films About Christo and Jeanne-Claude