The Other "Sister"…time to get "Randy"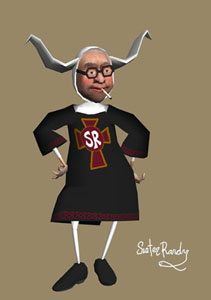 Anyone who has ever seen any of Sister Wendy's popular art appreciation series on PBS will immediately understand the appeal of the "other" sister.
So, maybe you're not a devotee of Sister Wendy. Maybe it's the "nun" thing or her coy sense of humor. If you're in search of a refreshing alternative to the cloistered one, relax; Sister Randy is here.
Dan Hanna created Sister Randy, an irreverent animated series of art history lessons delivered by a chain-smoking nun. Anyone who has taken an art history class is sure to recognize many famous paintings that are very loosely interpreted two animated series: Art History 101 and Art History 102.
Similar to the cheeky humor seen in the Monty Python program, Sister Randy provides an entirely new interpretation of famous paintings and art movements. Not to be missed in Art History 101 are her views on "20th Century Art" and "Pull My Finger." Both examples are quintessential Randy--naughty and hilarious fun.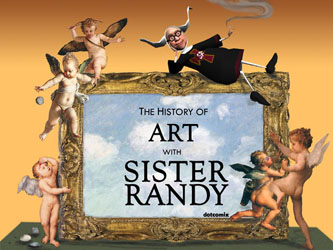 Be sure to visit the Sister Randy web site for the complete animated series and other fun stuff.