Art for the Blind
by Kathleen Lang
When entering an art museum the sighted population often takes for granted the ability to examine, admire, or even be shocked by the abundant variety of visual images that we encounter. But what about the blind or visually impaired; are they forever excluded from experiencing art because of their inability to see?
Museums have come a long way to accommodate the disabled. Wheelchair access has improved and many museums offer signing tours for the deaf. But the blind population cannot see, and therefore must rely upon their other senses, such as touch, to experience the world around them.
Touching works of arts however, is strictly prohibited at museums. Move in closer to any painting or sculpture to take a closer look and you will instantly arouse the attention of the gallery attendant, who will request that you move away and do not touch it.
This "no touch" policy is certainly understandable and necessary to preserve the art for generations to come. What then, is the solution to the blind population's visual dilemma? How can they too, experience the visual arts?
Museum Programs for the Blind or Visually Impaired
Services for the blind or visually impaired visitors are extremely limited at most museums. Some museums provide special verbal descriptive tours or offer assisted listening devices for the visually impaired, but touching works of art is not part of these programs.
The exception is the Metropolitan Museum of Art in New York City. Through "Programs for Visitors with Disabilities," the museum is committed to making their programs accessible to all visitors, regardless of physical limitations. In addition to using Braille labels, large-print booklets, and verbal imaging tours, there is a collection of objects that can be touched.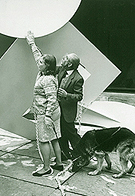 Mary West, a visitor, explores a sculpture on a Touch Tour given by Richard Barr, Weekend Education Center Coordinator.
Photo by Francesca Rosenberg.
Courtesy of MoMA
The Museum of Modern Art (MoMA) also provides programs for the blind and visually impaired. Similar to the Met, MoMA offers large-print and Braille descriptive booklets and a touch tour of selected works of art. The museum also offers art courses, for both children and adults that enable the blind to learn more about art through hands-on activities and tactile diagrams. According to the museum this is the first program of its kind offered at any institution.
Art Education for the Blind
The traditional approach to art history courses has been to use a combination of lectures and slides in order to explain works of art to students. During a single semester, students will usually see hundreds of slides that explore many details of painting, sculpture, or architecture. Slides however, are useless to the blind. In order for the blind and visually impaired to learn about art, an entirely new teaching model needed to be created.
Art Education for the Blind, Inc. is a non-profit organization founded by Elisabeth Salzhauer Axel in 1987. AEB is committed to making the visual arts accessible to the blind and visually impaired population by producing educational programs that utilize multi-sensory methods such as touch and sound.
How the AEB Program Works
It has taken nine years of research, developing and testing for a team of art educators and developmental psychologists to create an art history-training program for the blind and visually impaired. The program uses tactile diagrams, in-depth narratives, and atmospheric sound compositions to explain many examples of art works; both painting and sculpture are included in the series.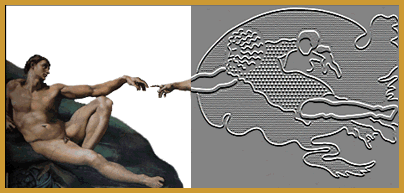 Michelangelo's "Creation of Adam," left, and AEB's tactile representation, right
Image Courtesy of AEB, Inc.
Some works of art are especially complex and therefore these examples must incorporate several different types of raised patterns in order to fully describe compositional and stylistic details.


Image courtesy of AEB, Inc.
Contents of the AEB Series
The planned 22-volume series will cover a wide range of art: prehistoric to contemporary. The examples include painting, sculpture, architecture, mosaic, manuscript illumination, and textiles.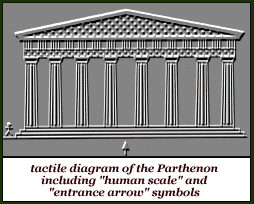 Image courtesy of AEB, Inc.
In September 1999, three of the first volumes of "Art History Through Touch and Sound" were released: "Building Blocks of Art," "European Modernism: 1900-1940" and "The Art of Ancient Egypt."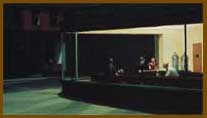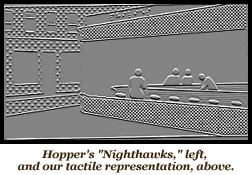 Image courtesy of AEB, Inc.
Perhaps the most intriguing aspect to this program is how sound is used to express visual concepts such as perspective, space, and emotion. Sound artist Lou Gisante has created sensitive compositions to convey these challenging concepts to blind and visually impaired individuals.
A similar project in Birmingham, England called "Sound and Touch" has collaborated with "Art History Through Touch and Sound" by donating their original recordings made to explain the space and environment of selected English cathedrals.
For More Information
This series is available to anyone who wishes to purchase it. The AEB is working closely with organizations such as The National Federation for the Blind, the American Council for the Blind, and several museums in order to make the program available to a wider audience.
If you are interested in making art more available to the blind and visually impaired, urge your local museum to acquire this extremely worthwhile series. Only then will the visual arts truly be accessible to everyone, regardless of their ability to see.
To receive more information or to donate to the AEB, please contact:
ART EDUCATION FOR THE BLIND, INC.
160 Mercer Street
New York, NY 10012
Tel: (212) 334-3700