Featured Online Exhibit:
Paint by Number: Accounting for Taste in the 1950's
Presented by:
Smithsonian National Museum of American History
Most Americans who grew up during the 1950's and 60's should remember how satisfying it was to complete their first "paint by number" masterpiece. Even without any formal artistic training, anyone could be an artist.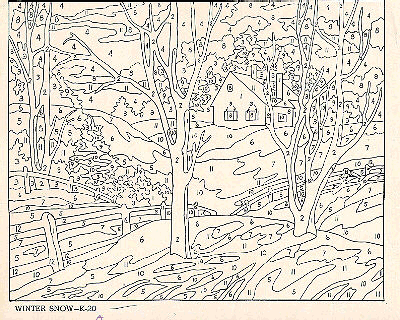 Winter Snow. Printed line art. Courtesy of PBN/NMAH.
The origin of this fad is attributed to Max S. Klein, owner of the Palmer Paint Company of Detroit, Michigan, and to artist Dan Robbins, who conceived the idea and created many of the early paintings. Paint-by-number kits first appeared in 1951 and by 1954, twelve million kits had been sold. Despite Robbins' proposal that the first kit contain an abstract painting, most consumers preferred realist subject matters such as landscapes, seascapes, and animals and clowns. So confident was Palmer's assurance to its customers' ability to paint that each kit boldly declared, "Every man a Rembrandt!"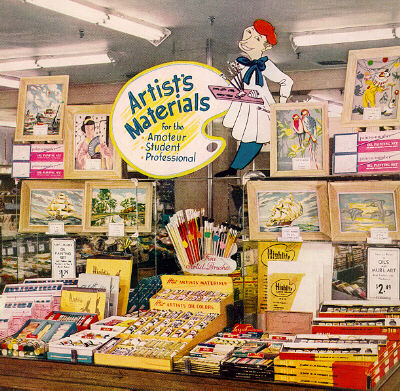 Woolworth Annual Report for 1953. Courtesy of PBN/NMAH.
Derided by art critics as kitsch, these painting kits were phenomenally popular with many would-be artists. And even though they were extremely formulaic and even downright tacky, the "artist" would nevertheless gain insight and a deeper appreciation for the process of painting.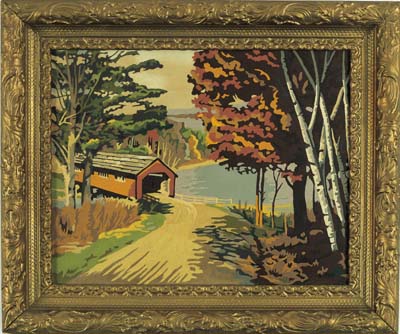 Covered Bridge. Lent by June Mersky. Courtesy of PBN/NMAH
This online exhibit at the National Museum of American History examines this phenomenon from the perspective of those who created the kits, the critics who despised the hobby and of course, the scores of aspiring artists who discovered the joys of this leisure activity.
Want to become a Rembrandt, too? Check out the Le Salon de Paint by Numbers
Learn more about paint by numbers by ordering the exhibition catalog.

Paint by Number
by William L. Bird Jr.
List Price: $18.95
Our Price: $13.27 You Save: $5.68 (30%)