San Diego's Timken Treasure
by Kathleen Lang
After attending an art history conference in San Diego, I found myself with a free afternoon before my flight home. My choices were to visit Shamu at Sea World, the monkeys at the zoo, or a museum. I have nothing against whales, and I happen to love monkeys, but the chance to see the special exhibit at the San Diego Museum of Art was just too tempting to pass up.
Located within San Diego's lovely Balboa Park, you'll find the San Diego Museum of Art. The museum is currently undergoing renovation, so the permanent collection is not on display. The renovations did not detract at all from the impressive retrospective of American artist Eastman Johnson.
Eastman Johnson: Painting America, February 26 - May 21, 2000
As far as the general public is concerned, the nineteenth century artist Eastman Johnson (1824-1906) may not be among the most familiar American painters, but he should be.
Trained in Düsseldorf and The Hague, his work is often compared to that of another American artist, Winslow Homer. Johnson is primarily known for his portraits and scenes from daily life (genre paintings). And in this exhibit there are certainly many examples of each.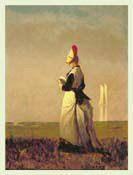 Eastman Johnson
American, 1824-1906
Woman Reading, c. 1874
Oil on board
25 1/8 x 18 5/8 inches (63.8 x 47.3 cm)
Gift of the Gerald and Inez Grant Parker Foundation 1977:9
A particularly good example of Johnson's talent is the centerpiece of the exhibit, Woman Reading, 1874. In this painting, a lone female stands reading before a vast seascape while awash in golden sunlight. Despite its simplicity, I found this painting to incredibly mesmerizing and I never got tired of looking at it.
The exhibition is extremely thorough in its ability to organize Johnson's substantial amount of work: early portrait drawings, Civil War subjects, genre scenes, and late portraits.


Eastman Johnson Painting America :...
by Teresa A. Carbone, Patricia Hills, Jane Weiss (Contributor)
Hardcover - 272 pages
List Price: $65.00
Our Price: $48.75
You Save: $16.25 (25%)

For more information about this exhibition, check the San Diego Museum of Art's web site.
The Timken Treasure
After leaving the San Diego Museum of Art, I noticed another small museum nearby called the Timken Museum of Art. I had never heard of the Timken before, but as is often the case, taking the road less traveled may end up being the highlight of your museum going experience.
By museum standards, the Timken contains a relatively small collection. The majority of the paintings were collected by the Putnam Foundation whose founders, Amy and Anne Putnam, insisted that there never be an admission charge to the museum, but donations are accepted.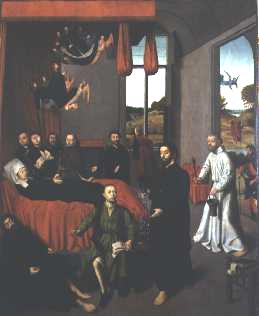 Christus, Petrus
c.1410-1472/73
Death of the Virgin
c.1455-1460
oil on oak panel
65 1/2" x 54 1/8"
The museum features 126 works of art that are divided into three collections: European Masters, Russian Icons, and American Artists. There is an especially good selection of Dutch art to found here, but there are other notables as well. In particular is a fine example of Northern Renaissance art, Petrus Christus' Death of a Virgin, c.1455-60. In 1987 the painting was restored and its colors have now returned to their original brilliance.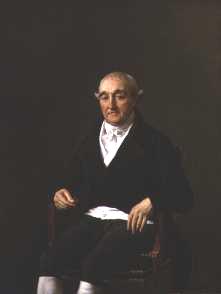 David, Jacques-Louis
1748-1825
Portrait of Mr. Cooper Penrose
1802
oil on canvas
51 3/8 x 38 3/8 in.
Also notable is Jacques-Louis David's Portrait of Mr. Cooper Penrose, 1802. Mr. Penrose may appear somewhat uncomfortable sitting for his portrait, but David captures his uneasy presence with astonishing realism. The effect is quite unnerving for the viewer.
The exhibit space is well laid out, and was not too crowded for a weekend afternoon. The staff was extremely helpful and genuinely eager to discuss the paintings and answer any questions in a professional, yet unassuming manner.
For further information, visit the Timken Museum of Art's web site.