A Tale of Two Museums: San Francisco's Legion of Honor and the de Young
by Doug and Kathleen Lang
Okay, here's the equation: Record museum attendance worldwide + Saturday + Georgia O'Keeffe at the Legion of Honor = A museum mosh pit!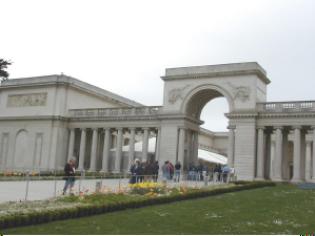 California Palace of the Legion of Honor, San Francisco
Photo: Doug Lang
Copyright: Art a GoGo, 2000
We first realized that we had underestimated the popularity of Georgia O'Keeffe, when we turned off of Clement Street and saw a sign that read "Legion of Honor weekend shuttle bus available 34th- 40th and Clement." What to do….forge on of course. Luckily the "parking gods" were on our side. As we walked up to the entrance of the museum, we were greeted by a museum employee who asked us if we had purchased tickets in advance. Gulp! Fortunately, advance tickets are not a requirement, and actually provided no benefit--you still have to wait in line to see the exhibit.
Once inside the museum, we came to the conclusion that the line to get into the women's restroom was as long as the line to enter the O'Keeffe exhibit. You get the picture, lots of people!
Georgia O'Keeffe: The Poetry of Things, is showing through May 14, 2000 at the California Palace of the Legion of Honor in San Francisco


Poppy, 1927
O'Keeffe, Georgia 30" x 24"
Price $9.60 - Available through ART.com
Georgia O'Keeffe © 1997 The Georgia O'Keeffe Foundation/Artists Rights Society (ARS), New York.
Print copyright: © Shorewood Fine Art.
Georgia O'Keeffe is one of America's most well known women artists. Her art has become synonymous with images of the southwest: cattle skulls, desert landscapes and adobes. But perhaps her most popular and vibrant work is seen in O'Keeffe's interpretation of flowers. Her perspective is so dramatically up close that we can no longer view them as common objects. Instead, the poppies seen in Oriental Poppies, 1928, almost become an abstraction. But it is the color of these flowers that have to be seen to be believed. They absolutely explode with bright oranges and reds. The exhibit has 54 works by O'Keeffe as well as 28 photographs. Six of the photographs were taken by her husband, Alfred Stieglitz.
Again, we strongly recommend that you try to see this exhibit during the week. The Legion of Honor is a beautiful facility, but the space that they use for special shows is relatively small for such a popular artist. The museum attempts to control the number of people in the exhibit at any given time, but it didn't seem to help that day. People were shoulder to shoulder, so we couldn't really get close enough to examine the subtle details of the artist's work. As you wind through the exhibit, you are delivered to a bookstore specifically set up for this event. There are no "in and out" privileges, so once you leave the exhibit you can't go back in.


Georgia O'Keeffe : The Poetry of Things
by Elizabeth Hutton Turner, Phillips collect, Elizabeth Hutton Turner
Hardcover - 160 pages
List Price: $35.00
Our Price: $24.50
You Save: $10.50 (30%)
The Quiet Refuge
On the main floor, you'll find the Legion of Honor's permanent collection. This includes classical and European art from ancient Egypt to the twentieth-century. The exhibit space is beautiful! Large rooms, high ceilings, and excellent lighting. On this particular day, you wouldn't have even know that the Georgia O'Keeffe exhibit was going on downstairs.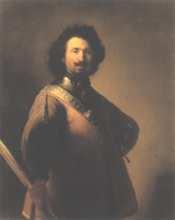 JORIS DE CAULLERII
1632
Rembrandt Harmensz. van Rijn Dutch, 1606-1669
Oil on canvas affixed to panel, 40.375 x 33 in.
Roscoe and Margaret Oakes Collection, 66.31
Photo courtesy of the Fine Arts Museums of San Francisco
Not to be missed in Gallery 14 is Rembrandt's Joris de Cauerii, 1632. This portrait of a gentleman in military garb displays Rembrandt's masterful handling of surface textures and captures the psychological realism of his sitter. Although the painting is strongly lit by the overhead lighting, it nevertheless seems to possess its own inner light source. This is a truly remarkable painting and it deserves some careful consideration.
Also, be sure to go to Gallery 3 and look up. The 15th century Mudejar Ceiling, made of carved wood, was removed from its original Spanish location and placed in the museum. Closely inspect the seismic support bracing-with all that support, this has definitely got to be the safest place in the entire museum!
Three For The Price of One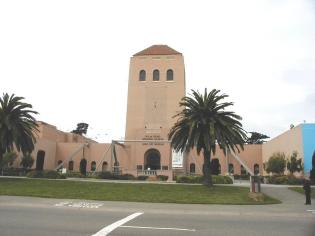 The de Young Museum, San Francisco
Photo: Doug Lang
Copyright: Art a GoGo, 2000
As we were leaving the Legion of Honor, we realized that our paid admission also allowed us entry to the de Young Museum and the Asian Art Museum, both in Golden Gate Park. The de Young has an outstanding collection of North American native art, as well as works from Latin America, Oceania and Africa. Their collection of American art is particularly impressive. The museum acquired the majority of this collection from an endowment by Mr. and Mrs. John D. Rockefeller 3rd.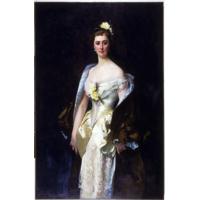 John Singer Sargent
American, 1856 - 1925
Caroline de Bassano, Marquise d'Espeuilles, 1884
oil on canvas 62 7/8 x 41 3/8 in. (167 x 106 cm)
Gift of Mr. and Mrs. John D. Rockefeller 3rd to The Fine Arts Museums of San Francisco
1979.7.90
Photo courtesy of the Fine Arts Museums of San Francisco
Unlike their European counterparts, early American artists rejected religious subjects as an artistic theme. Instead, they focused on portraiture--and there are a lot of portraits to be found here. Most notable: John Singleton Copley's Mrs. Daniel Sargent, 1763, Charles Wilson Peale's Self-portrait, 1822, and John Singer Sargent's Caroline de Bassano, Marquise d'Espeuilles, 1884. All three are exquisite examples of attention to detail and color.
Don't leave the museum without visiting Gallery 18N. In this small space you will encounter the mesmerizing power of trompe l'oeil painting. By definition a trompe l'oeil painting seeks to "fool the eye" of the viewer through the artist's ability to re-create, on a two-dimensional surface, objects that the viewer accepts as genuine. The Cup We All Race 4 by John Peto, c. 1900, is an excellent example of this style. The contents of the painting are deceptively simple: an old tin cup hanging on a nail against a wood background with a scrawled inscription and a torn piece of paper. But spend some time looking closely at the painting and several secondary levels of meaning and even more questions will emerge about this intriguing work.
Rating The Legion of Honor and The de Young
The museum space that houses the Georgia O'Keeffe exhibit is too small for the volume of people that attended on the day that we visited. Despite the crowds at the Legion of Honor, we enjoyed what we saw. The museum is located within Lincoln Park and offers a magnificent view of the Golden Gate Bridge. Many people brought picnics and enjoyed the view from the museum's front lawn. Or, if you prefer, there is dining available at the museum's café.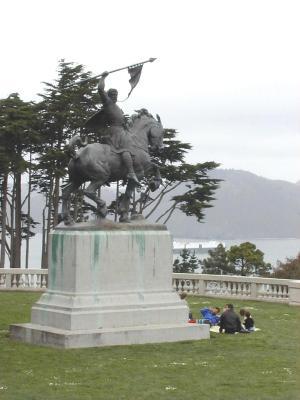 Front lawn at the Legion of Honor
Photo: Doug Lang
Copyright: Art a GoGo, 2000
View of the GGB
Photo: Doug Lang
Copyright: Art a GoGo, 2000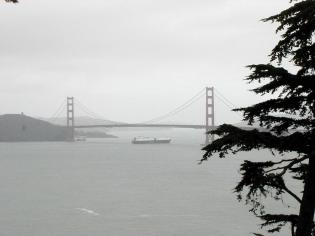 The de Young museum is located within Golden Gate Park, so parking is less of a problem. If you don't mind walking you can park for free just outside of the de Young / Academy of Sciences parking lot. The de Young also has a café.
Make sure you visit the de Young soon. It is in dire need of earthquake retrofitting, and it is uncertain at this point what the exact future of the museum will be. A public campaign for the new de Young has already begun with plans being discussed for a new design. For more information about the new plans, log on to a special web site, www.mydeyoung.com
Please visit the Legion of Honor or the de Young Museum web site for more information.